COMMUNITIES PREPARED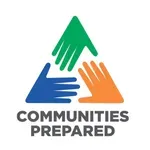 Communities Prepared is a Lottery funded national community resilience programme run by the charity Groundwork, with partners including the Environment Agency.
Through training and tailored support, the programme equips Community Emergency Volunteer (CEV) and Flood Warden groups nationwide with the knowledge and confidence to prepare for, respond to, and recover from a range of emergencies, from flooding and severe weather incidents to pandemics.
Communities Prepared follows a holistic and joined-up approach to training and knowledge sharing, linking in and signposting to existing organisations and initiatives. Free tailored online training, resources, advice, and a first-of-its-kind online resilience hub are all features of the support on offer to communities. The programme also offers train the trainer packages for local and national organisations, providing information and resources to empower their staff and volunteers and support the wider community.