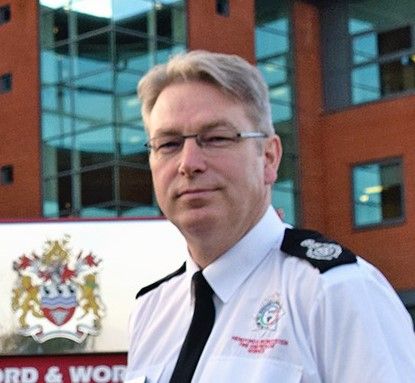 Nathan Travis
Chief Fire Officer
,
Hereford and Worcester Fire & Rescue Service
Nathan's career spans over 27 years and three Fire & Rescue Services. Since 2016, he has been Chief Fire Officer at Hereford and Worcester Fire & Rescue Service. Nationally, Nathan has been the Environment and Sustainability lead for the National Fire Chiefs Council (NFCC) for ten years, primarily focussed on the subjects on organisational sustainability and Climate Change (Adaptation and Mitigation) - raising the awareness of the impacts of climate change on the Fire Sector and supporting services as they develop policies and plans to better manage their own environmental impacts.
As part of the role, Nathan also regularly represents the NFCC with national partners (e.g. Environment Agency, Met Office, DEFRA and other environmental organisations) focussing on where UK Fire & Rescue Services can add value and improve their services to support communities as they both prepare for and deal with the increasing impacts of extreme weather events.